Washington Merged Longitudinal Administrative Data
Dataset Details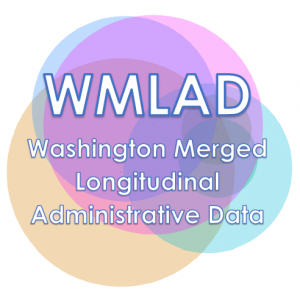 Data Summary
The Washington Merged Longitudinal Administrative Data (WMLAD) contains state-level merged and geocoded administrative data assembled to examine employment and earnings outcomes. State Unemployment Insurance (UI) records (which include quarterly hours in Washington) form the backbone of this resource.  WMLAD contains UI records merged with data from other sources and combined with novel methods to locate workers geographically, assemble workers into households, track key means-tested transfer income, and assign demographic characteristics. Component datasets include voter files from the Secretary of State, driver's license and state ID data from the Department of Licensing, client data from the Department of Social and Health Services (DSHS), and select records from the Department of Health and Washington State Patrol.  The data covers the period 2010-2017 and contains records on over 10 million individuals plus UI records dating back to 2000.
The UW Minimum Wage team commissioned DSHS to create WMLAD in order to examine impacts of the Seattle and other minimum wage laws. We anticipate access to WMLAD may be restricted during the data's developmental period (i.e. through approximately 2021), but the data originators are working with UWDC and the various state agencies to explore models for institutionalizing WMLAD for other public uses.  Research use of WMLAD must adhere to applicable federal and state regulations. The Washington State Institutional Review Board as well as the state agencies providing data must approve any new research use. Projects that duplicate or have substantial overlap with work plans of the UW WMLAD originating workgroup will face delay until after that group's publication of results. Scholars (including doctoral students) interested in examining questions relevant to the minimum wage should get in touch with one of the team investigators (Scott Allard, Heather Hill, Mark Long, or Jennie Romich).
Temporal Extent
Cross-sectional/longitudinal, from 2010 to 2017
Geographic Extent
Washington State
Unit of Analysis
Individuals and households
Institutional Partners
Evans Schools of Public Policy & Governance; and School of Social Work
Data Citation
Romich, Jennifer, Anne Althauser, Scott Allard, Mark C. Long, and Jacob Vigdor. 2018. Linking Administrative Data to Understand Effects of Seattle's $15 Minimum Wage Ordinance. Seattle, WA: University of Washington.